Brain-block. Perhaps from the jetlag.
Woke up this morning again at some ridiculous hour. And since I haven't blogged in a a few days, thought I'd update my blog. With something meaningful and of significance. All-inspiring. Funny.
And so I sat here with my coffee while waiting for the inspiration.
And waited.
And waited.
And waited.
Oh well.
Not that nothing's been going on since I got back. Started work a couple of days ago; working the EKGs this month, so I work alongside a cardiologist, reading those darn heart-a-squiggles. Trying do discern fascicular blocks (was that a left anterior, or a bifascicular?) and LV hypertrophy (what was the latest criteria again? They keep changing the damn things). All the while asking myself why I needed to know this since I was gonna be an endocrinologist. Hey, don't get me wrong, EKGs are great. But I'll be happy just being able to pick out those ST elevations and high-degree blocks.

Been so much warmer here. Balmy 26C yesterday. So much greener since I left. Love Rochester at this time of the year. It's actually beautiful. Although I have yet to go out biking since I returned. And I've yet to go canoeing this season. And, recently had the idea to fly a glider (there's a place not too far away); always wanted to do that (shh. Don't tell mom/dad. They'd sooner have me take up smoking). And it's warm enough that I get to have the windows and sunroof down on Veronica.
Ouch. Veronica. Missed her so much; hadn't realize how underpowered our Protons are. Even my brother's V6 Perdana. My heart broke when I found this huge zit on her bonnet. Some chip off her paint, right down to the body of the car. About 1mm. Probably from a pebble from the stupid road works on Highway 52. Was able to pop by Honda yesterday for some Touch-Up. Now that's a brilliant idea. Selling the original paint in a small bottle for touching up small nicks. Kinda like concealer, from what my sister tells me. Do we have that in Malaysia?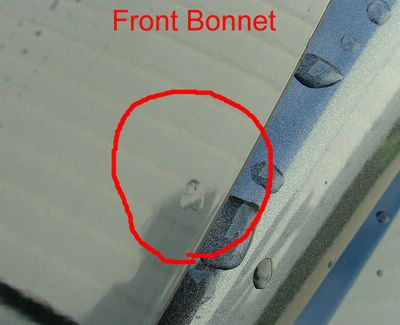 Did wake up early yesterday in a bit of a panic attack. ABIM. Less than 2 months away. American Board of Internal Medicine exams. Kinda like the MRCP. My specialty exams. And paid a bomb for it. So much more to cover (been studying on-off for months), but so little time. I will need to put in a lot more effort into this.
Better go study...
(by the way, to would-be medical students: They lied when they said you stop studying the day you become a doc. First it's premed. Then medschool. Then licensing exams. Specialty exams. Subspecialty exams. Then recertication. All the while, studying medical journals for updates. And taking the stupid ACLS every 2 years!)