A Good Cause
Yvonne Foong probably needs no introduction to the hordes of Malaysian fans and admirers out there. No, she is not an actress, model, famous scientist or an heiress. But I do consider her to be one of the bravest, pluckiest and most resourceful people I know of.
She has neurofibromatosis type 2. Despite numerous surgeries, she is now deaf and was left with a facial palsy. In an attempt to treat the deafness, she underwent surgery in Los Angeles, California last week. She will be there will November 22. Despite the surgeon having waived his fees, the cost is obviously astronomical. But instead of sitting around askig for donations, this plucky lady and her friends embarked on a fundraiser of impressive proportions, which included designing and selling T-shirts and earrings, organizing a concert, blogathon and writing a book (I'm not sick, just a bit unwell).
Her achievements put many of us to shame; she was browned the Most Outstanding Youth of the Year 2005, is represented by the Euro 1 Motion Picture and Literary Agency in Eastern Europe and the Balkans, Fine Art Synergy, founder of NF Malaysia, freelance contributor to the Sun Newspaper, writer for YellowPost, among others. And to think my proudest achievement was being able to stuff 4 hard-boiled eggs into my mouth at one go (kids: don't try this at home).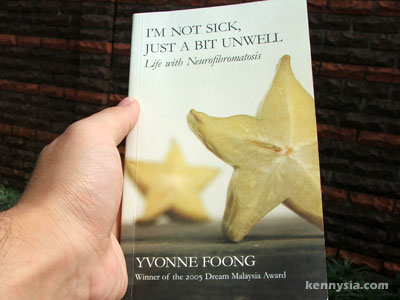 (Picture borrowed from Kenny, with permission)
She is currently recovering from surgery in LA. Being the KPC that I am, I am trying to help promote her cause in hopes of raising some funds for her. I came across her most recent update from Kenny's site, and it hit me at a very personal level. Perhaps this stems from the guilt and helplessness many overseas physicians and surgeons I know have; we help hundreds or thousands of patients here, but are almost totally helpless to those back home. I try to volunteer here, but you know you can never reach that far.
And even in Malaysia, although we have an army of dedicated docs, the nonsensical government redtape and lack of budgeting for healthcare leave much to be desired. RM 500,000,000 for a sports complex in London when hospitals need ventilators and MRI scanners? After all, when did you last see a minister use a public hospital's regular ward? The same people who made policy decisions about spending, when they need healthcare, they go to private hospitals, or fly overseas. I should know. I've seen numerous Dato's here, 22 hours away from Malaysia, who strut around like they own the damn hospital. Just cos they wanted to 'go to the best', while they neglect the ones at home.
So, I'm hoping some readers out there could help with donations. The Paypal link from her site makes credit card donations easy. And though she needs over RM200,000, every little bit, every dollar, would be appreciated. I've made a sizeable contribution myself. For those in the USA, for the cost of a meal at Applebees or TGIF, you can really make a difference. Think about it. If a hundred of you here donate US$10 each, it would translate to over RM 3000. So come on, if you're like me and need to work on your karma for all that boozing, womanizing and whatever else, go ahead and help a plucky young lady.
Thank you, all, and God Bless.
(Disclosure: I have no personal ties to Yvonne, though I admire her courage and wish I have even half of her gutsiness)