On being a doctor
The bad thing about being in medicine, is everyone treats you like their personal physician.
This started literally 2 months into medical school, back in 1996, when I was this clueless greenhorn 1st year medic still trying to properly spell 'brachioradialis', and was still pronouncing papilloedema 'pap-e-loh-ee-de-mah'.

"Hey, your aunt ABC has this spot on her big toe; why don't you take a look at it?"
Like I was a bloody dermatologist then.
Or, when I was going through customs in KLIA in 1999 during my annual vacation. This idiot Encik asked me what I studied, and I told him, and he started telling me the 2 million symptoms his father was experiencing and wondered what that might be. My family was impatiently waiting outside, and they could see me peering at them. I think dad must have thought that I was caught smuggling Playboy magazines into Malaysia.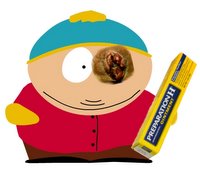 I mean, come on, I know we're friends, but what makes you think I really wanted to see if that lumpy goomba sticking out of your ass is a hemorrhoid? Sometimes you really don't want to know your friends THAT well (I still can't look that guy in the eye without seeing his anus. And when he winks, I just burst out laughing thinking about the anal 'wink' reflex!)

These days, I'm getting consults via MSN or phone, about weight loss, pregnancy, ejaculation, babies, coughs, colds, Pap smears, cancers, diabetes, chest pain, you name it.
I still get phonecalls at 5 a.m. asking me if they need to see a doctor for their cough.
And not too long ago, a blog reader was shitting in her skirt because she thought she might be pregnant (next time, use a condom. The withdrawal method doesn't work)
And the other day, someone else asked me if there was a 'quick, safe & effective way to lose weight'? Yea. I told her to stop eating.
Or that midnight call I got a few weeks ago, when a friend's friend called concerned about her chest pain (if you're reading this, my bill's one its way
).
So, if you ever have the desire to call me at weird hours, remember, I charge US$390 for an initial consult. And no, I don't take personal cheques.