X'mas Party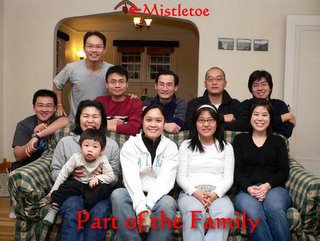 So we organized a party over the weekend. Partly as a Christmas party. Partly as a farewell for some dear friends who will be leaving Rochester to return to Singapore. OC, a cardiac surgery fellow, who's done with his stint here. Incidentally, we were able to twist his arm into promising us a free coronary bypass when my Malaysian diet takes its toll, and my heart attack hits me at 50 (OC: What's the warranty on your bypasses? 5 million beats or 5 years, whichever comes first?).
It was great fun, a time to celebrate the friendships we've made here, people I've learnt to call family; and to reflect on how life, fate, has brought us to this place, to this career. LP and I were reminiscing about how things began, and painfully realized that we started this journey eons ago (we started medical school in 1996, and we're STILL training). So when I see young med students (yes, YOU!) talking about how they're about to finally graduate and be done, I tell them, Dude, you have no freakin' idea. You're just beginning. Bwahahaha.

I gave my gifts away too, mainly because some were not going to be here next week. I'm still unsure what that idiot friend of mine was insinuating by giving me that Chippendale calendar. But I got back at him too:
Overall, a fun party (But dammit, that bloody mistletoe didn't work!).