What the hey...???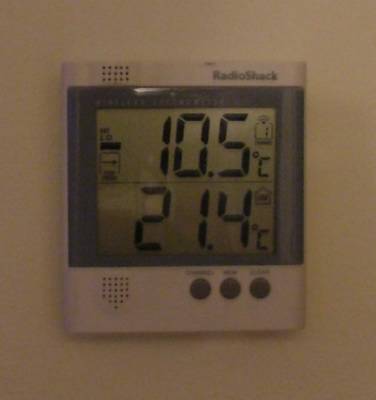 What the??? Look at it. Just look at it. That's my thermometer. Yup, you read it right. It's -10.5!! So much for spring coming. And I just took that this morning before I left for work. Thought I could get away with lighter clothes, so I wore my usual suit and tie (yes, that's standard work attire here. A freaking suit). Took a step out, and promptly came back in for my coat and to check the temp.
In fact, right now (745pm) it's snowing.
Just heard from mom. A buddy of mine and childhood friend, Kevin, is engaged. D*mn. And I've always had this comfort zone with some of my friends still being unmarried. Looks like this is fast changing.
Let's see. My highschool gang (11 of us, mostly of the prefectorial board): 5 are married, 4 are attached and 2 are single.
And ahem, the other single guy we've always wondered if he was.. err.. playing for the other side
. So that leaves me.
Kinda funny how things go. When I left for med school in Canada 7 years ago, Mom (being so traditional, afraid I'd end up with a kwai-poh) said,
"Go find a nice Malaysian Chinese girl..."

And then a few years later:
"Find a nice Chinese girl..."

Most recently:
"Find someone..."
My housemate TS confessed just a couple of days ago that my mom asked him to help find me a girl. Heh heh heh. She must *really* be getting worried.
Perhaps I should put up an ad, huh?
"Short single Chinese doctor seeks female. I can cook and clean, prescribe narcotics, disimpact bowel. Sometimes handy around the house, good for warming the sofa. Looks adorable in a chili-red apron (included). Please contact me at 1-800-DESPERADO."