My first 1/2 marathon!
And so, at the ripe old age of 40, I finally did my first half marathon. If you know me, you know I didn't like running. I did not see this as a natural thing for someone with short, stubby legs. But somehow, being married to Kristin, it's true they say that your spouse changes you. Like how she was almost vegetarian when we first met. And after yet another potluck in my old house, she call home crying to her mom "These Malaysians eat soo much meat!". And now, there are days when she craves for meat more than me.
And so, 2 years ago she talked me into signing up for our first 5k run. Signing up was figurative. More like I was at work and I received an email: "Congratulations, you are now signed up for XXX run....".
After that run, she suggested we train for a half-marathon. She'd done a few of these before. Never I. But today, after having trained for the last 8 months, and actually willingly getting up at 530AM Sunday mornings to go for a 5 mile run before the kids wake up- we finally did it!
It was an interesting experience, to say the least. The way you get palpitations and pumped up for the run. How your gut does some acrobatics the morning of. Certainly gave me a new perspective on things.
Like how the so called runner's trot is real. I called it the runner's rectum. How your gut objects, and causes you to lau sai. Hopefully this happens after the run. But sometimes, shit happens.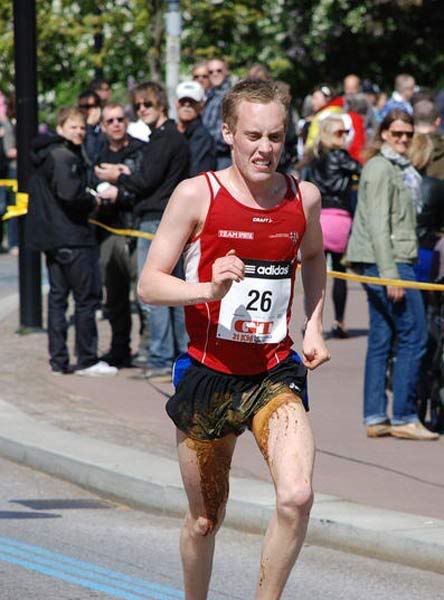 Also, never thought much about chafing. I'd heard people joke about it, of using bandaids to cover up your nipples, and using Body Glide to minimize friction and skin irritation. But until you actually experience it, it's hard to understand. By mile 10 my nips were burning like someone stuck cigarette butts into them. And when I stepped into the hot shower just now, my first feeling was agony. However, it could be worse. Just ask this guy.
My wife told me running is 90% mental and 10% physical. She's wrong. I tell her the brain doesn't have much glycogen. It's all physical, dammit. You start the race feeling pumped and excited. With people cheering you on, and you're still full of energy. At Mile 1, you smile and wave at those cheering you on. You see all kinds of hilarious signs, like "Run as though Trump is trying to grab your p*ssy" or "All this running for a free banana doesn't seem worth it". At Mile 6, you're wondering why the mile markers seem to be further and further apart. At Mile 9, those signs you thought funny, don't seem that funny anymore. Mile 10 you're wondering why the hell did you let your wife talk you into this? You're wondering if she's trying to get your life insurance money. Mile 11 your legs feel like dead weights, your nipples are burning and your tummy's cramping. Mile 12 you're thinking where the hell is the Mile 13 marker??? And finally, as you see the Finish Line, you find a last reserve of energy and force yourself to pick up your pace, and force a smile as the photographer snaps your picture.
2:17:53.
After we collected our medals and walked to the refreshments tent, I told my wife: I either have to puke, or pass out. Thankfully, I did neither. But what a day it's been; something tells me this won't be our last half marathon.
(ask me again tomorrow when I wake up to find my legs paralyzed).